The Activision-Blizzard controversy took an unexpected turn this November with three of its biggest partners turning their backs on the company. The public's reaction was mostly positive but a cloud of doubt about the concrete ramifications of these events shrouds the gaming scene.
Activision-Blizzard has been under intense scrutiny since Summer 2021
On July 20, 2021, the California Department of Fair Employment and Housing files a lawsuit against Activision Blizzard alleging discrimination and sexual harassment against women in the workplace. The company denied allegations calling them "distorted and untrue" and company CEO, Bobby Kotick declared being unaware of the issues. Since then, allegedly big changes were made within the company with high-ranking employees being fired for misconduct, department leaders leaving their jobs, and internal committees being formed to try to bring lasting change to the company's culture.
This brings us to November 2021 and the publication of the Wall Street Journal article revealing more details about harassment, discrimination, and intimidation within the company. It included information about CEO Bobby Kotick being aware of all the issues regarding sexual misconduct, personally intervening in a sexual harassment investigation within the company, and making death threats to his assistant.
An unusual turn of events
The reaction of the public to these revelations was exactly how you would expect it to be: bad. But then, the most interesting turn of events happened. The 3 CEOs of the 3 largest gaming companies (and the 3 main console makers) came out to denounce the Activision's practices.
Here is a quick timeline:
16 November 2021: publication of the Wall Street Journal article
17 November 2021: Sony Interactive Entertainment's President and CEO, Jim Ryan addressed an internal email to all PlayStation employees saying that he is "disheartened and frankly stunned" by the new revelations brought up. The email was immediately leaked to the public.
18 November 2021: Xbox's Phil Spencer sent an email to his staff condemning Activision's actions and saying that "This type of behavior has no place in our industry". He went as far as saying that Xbox and Microsoft would make "ongoing proactive adjustments" to its relationship with Activision Blizzard. The email was soon leaked to the public.
23 November 2021: Doug Bowser, President of Nintendo of America found "these accounts distressing and disturbing." He goes on to say that Nintendo staff have been "in contact with Activision" and have taken action (without specifying what it was).
Three major gaming companies turning their backs on one of their biggest partners
This is very unusual. There is no precedent for this sort of thing. Three major gaming companies Sony Entertainment, Xbox and Nintendo turning their backs on one of their biggest partners. The most surprising on this list is PlayStation as it has an exclusivity deal with Activision regarding the Call of Duty franchise (CoD players on PlayStation routinely get exclusive content that players on other platforms don't have). They were the first ones to take a stand.
The Big Three decided to invest in their reputation by taking a public stance against the discriminatory practices of Activision Blizzard. There are sending out a message to their customers and the public in general.
Did the Big Three succeed in their PR stunt? Let's take a look at the numbers

With an average of 12 000 mentions in the last 30 days, we can clearly see at which points in time the mentions skyrocketed.
The period from the 16th to the 20th was related to the release of the infamous article and PlayStation's and Xbox's CEO's taking their stand on the issue.
The second spike, which is much higher than the first is associated with Doug Bowser's internal email. As we can see already, Nintendo's stance provoked a much larger number of reactions as it is really unusual for Nintendo to get involved in controversies like that.
Out of those 12 000, we took those originating from Twitter (~8 000 tweets) and broke down the unique authors into affinity groups that allowed us to better understand the communities behind the mentions. Here's what we found: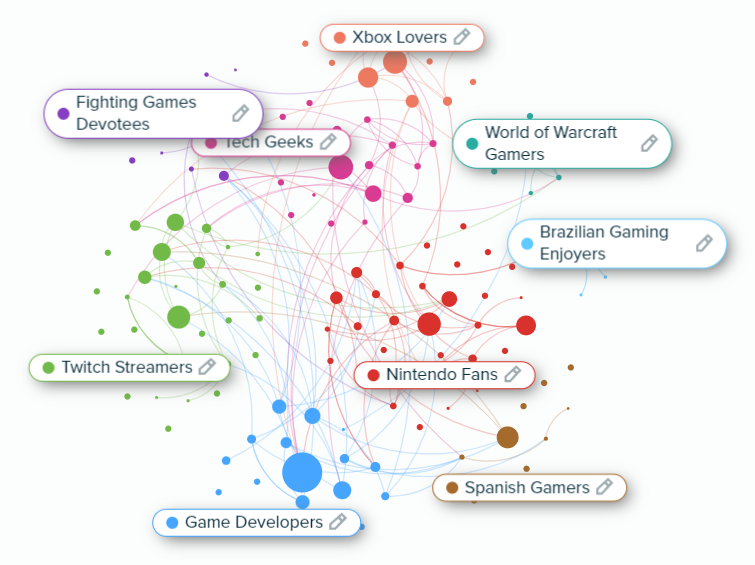 Positive reactions with a speck of doubt
Reactions were mostly positive with people being pleasantly surprised by this turn of events with praise and hopes that this will make an actual difference within the gaming world. People were also surprised by how "firmly worded" was Spencer's statement.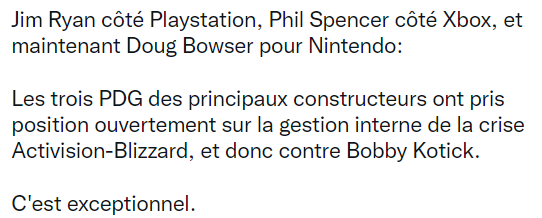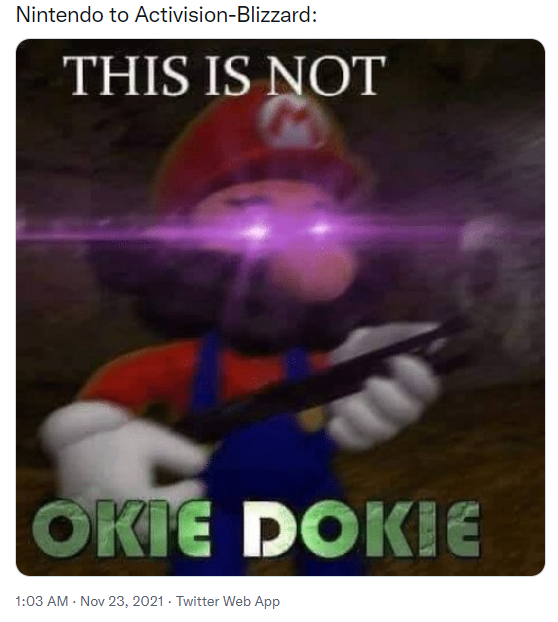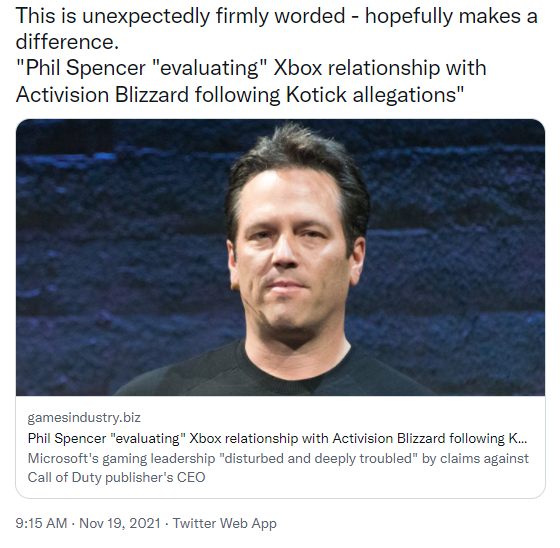 Although netizens were happy to discover that their favorite gaming brands were standing up to justice, many were wondering if actual actions would be taken like temporary removal of Activision's games from their respective stores or a full-on boycott of their games. There were statements expressing that if nothing concrete follows the bold statements then a real opportunity for change within the gaming industry could be lost.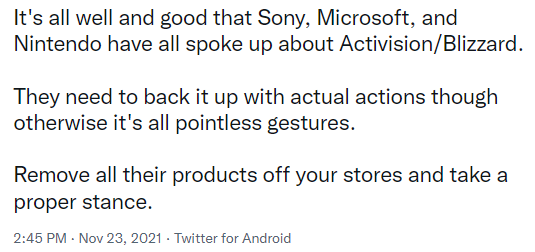 Many saw this as a way for the Big Three to cover their backs as they are fully aware that they themselves are guilty of the same discriminatory practices. Taking a stance would allow them to take the blow and address future issues of that kind retroactively. In an ironic twist of fate, this came out to be exactly the case. On November 23nd, exactly 6 days after Jim Ryan's speech, PlayStation was hit with a gender discrimination lawsuit from one of its ex-workers.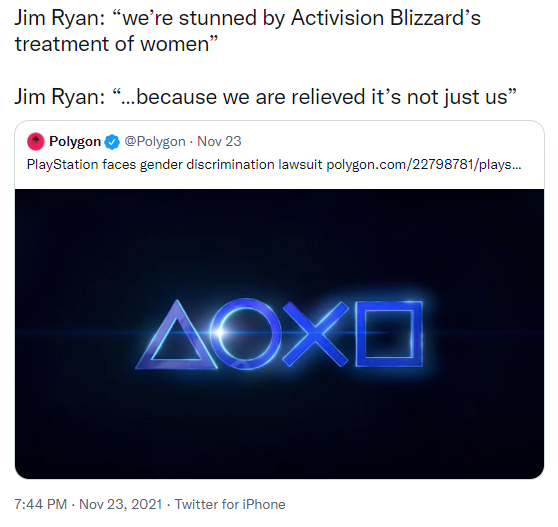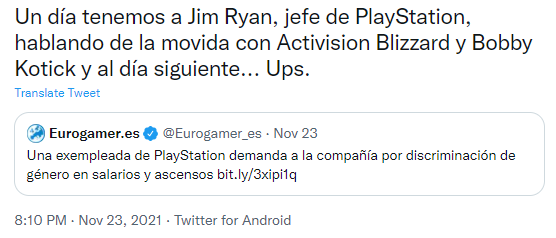 Consumer impact is negligible (for now)
Did the Big Three's stance on the issue influence players and content creators' decisions about whether or not to buy or to make content on Activision's games? It is hard to say.
Some netizens hoped that this would trigger a big reaction and that people would start dropping the company's games just like some creators did in the Summer following the first set of revelations.

Indeed, Blizzard's flagship game, World of Warcraft has been experiencing a steady player base decline for months now but it is mostly linked to in-game problems and issues with the latest content additions. The controversy doesn't help but is unlikely the main factor in the declining numbers.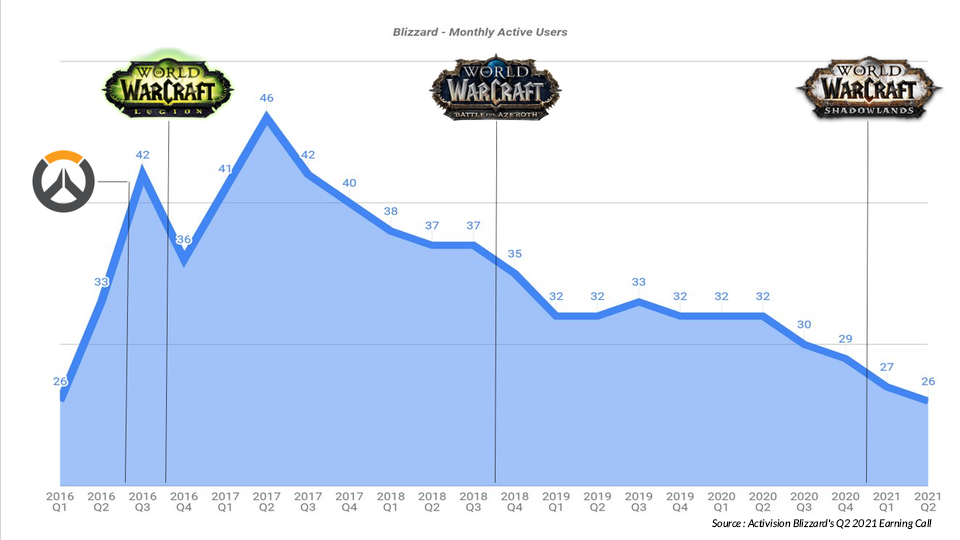 Recent numbers also revealed that the latest Call of Duty sales have been unimpressive compared to its previous record-breaking iterations. An actual study done by GamesIndustry.biz has shed some light one why the latest CoD game hasn't been so popular.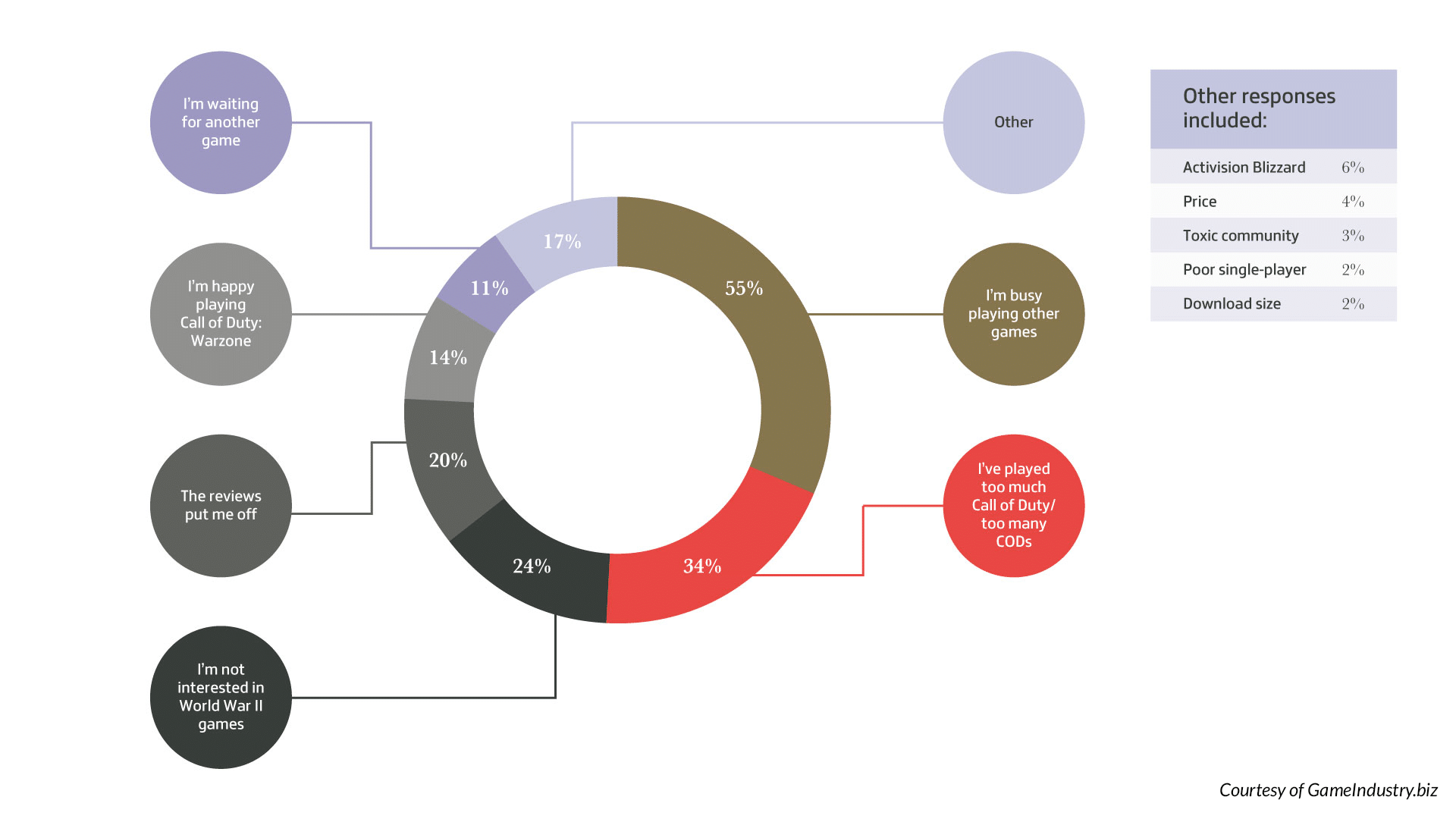 The main reasons are the abundance of games, too much Call of Duty, and a dislike for a World War II setting. The controversy only accounts for 6% of the overall reasons: a not so impressive number but which could potentially grow.
This goes in line with the community breakdown we presented earlier. There were no CoD centered communities that expressed themselves on the matter likely meaning that Call of Duty fans either don't care or choose not to express their opinions on the matter.
The industry's #MeToo moment
The gaming industry is experiencing its own #MeToo moment with more and more revelations of toxic company cultures and systematic gender discrimination with Activision-Blizzard being the latest in a long line of culprits.
What recent events showed, is that the gaming industry is starting to pay more attention to the reputation of its partners. At least so it seems. Time will tell if the Big Three will follow up their words with concrete actions and that will set a precedent for the rest of the industry.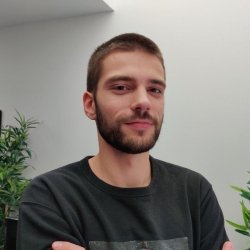 Latest posts by Nichita Pohila
(see all)